Purch It
10 Things To Do At Christmas
Ah, the crisp winter mornings, the smell of mulled wine, the jolly music that follows you everywhere. Yep, that's right… Christmas is officially here!
So to join in on the Christmas spirit, we are sharing 10 things to do at Christmas time in the UK, Purch It style.
Explore The Christmas Markets
There is a large variety of Christmas markets popping up around the UK, so why not visit your local Christmas market this year? Christmas markets are a great way to support small businesses, try out new festive foods, and feel extra Christmassy.
Bake Gingerbread Cookies
Snowed in? Too cold outside? Have a baking day! There's nothing more nostalgic and cosy than getting into your comfy clothes and baking a batch of homemade gingerbread cookies. The smell of gingerbread floating around the house really does get you into the festive spirit!
Have a Christmas Film Marathon
Home Alone, Elf, The Grinch, there's A LOT to choose from. So why not watch them all? Cosy up by the fire & have a full day spent watching Christmas films, from the old to the new. Using our app, Purch It… you are able to earn points by scanning films to spend on prizes of your choosing. Who doesn't want to get rewarded while watching films? Not just that, if you like an outfit someone is wearing on your screen, simply use our scanning feature to find out where that exact outfit is from, with just one click! You never know, you may discover an outfit of your dreams. Pssst, having snacks on standby is also a bonus!
Go Christmas Shopping
Wanting to find the perfect gifts for your family and friends, without having to leave your home? Instead of hitting the town where it's busy, busy busy. Why not use our app Purch It? Purch It is the world's first point & clicks discovery app where you are able to connect to brands you love & get rewarded for using our app. Download our app today and start scanning using our app to purchase items in the comfort of your own home.
Donate To A Charity
Christmas is all about giving, so why not donate to a charity of your choosing? Generous gestures like this are a great way to make you feel good in the Christmas season, whilst helping those in need. Our charity feature will be live in the Purch It app soon...watch this space.
Go For A Winter Walk
Wrap up warm & take a wander in the fresh, crisp air. Hang out with a friend or ride solo and take in the winter season. You could even explore the Christmas lights around your neighbourhood!
Go Ice Skating
These boots are made for skating! Hit the ice rink with your friends or family and practice your skating skills. You never know, maybe you'll be busting out the figure 8 moves sooner than you think…
Listen To A Festive Playlist
You heard that right, it's time to defrost the Michael Buble album you have stored in your attic. Blast your go-to Christmas songs and have a sing-along, you could even invite some friends around and have a Christmas karaoke night or a dance-off!
Have A Games Night
Dust off your favourite board games, invite your friends over and have a games night! Game nights are a great way to bring people together and have a good laugh. After all, who doesn't love a game of Monopoly?
Send Out Christmas Cards
Got a message to send to a loved one? Let them know by writing out a card for them. Cards are a great way to let someone know you're thinking of them and how much they mean to you. Personally, our favourite thing about Christmas cards is posting them and going from door to door to spread some Christmas cheer.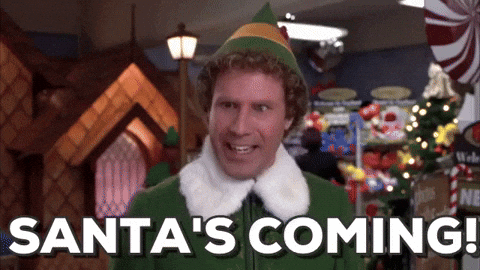 What do you like to do at Christmas time? Let us know in the comments below as we'd love to hear from you!
If you haven't downloaded the Purch It app yet, what are you doing? Download today & get rewarded for using our app this Christmas, you don't want to miss out!